Features of a Modern Dining Room
In our homes, one of the most important spaces is the dining room. And it's understandable why it's so. Men are social creatures, and even as a family unit, we all like to gather together and dine and drink. And what better area to do this than the dining room?
If you are planning on renovating your home and looking for ideas on how to modernize your dining room, here are some suggestions you might be able to get inspiration from. 
Design Ideas for a Modern Dining Room
Gray and White Palette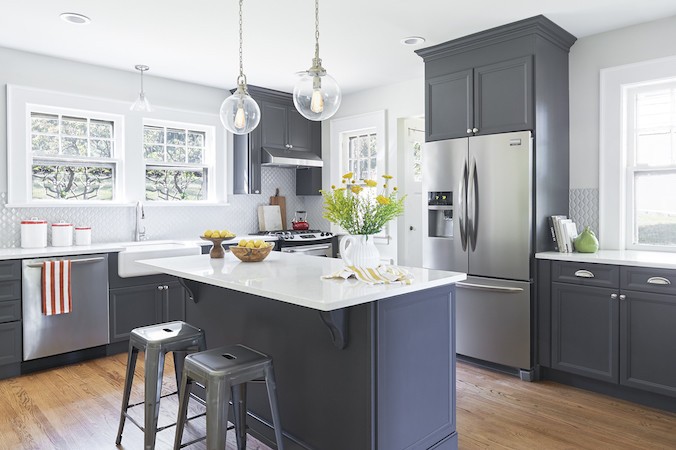 When you say the word "modern," what comes to your mind immediately? Modern design can come in many styles: vintage and mid-century, sleek and sophisticated, and even a mixture of styles. Whatever style you choose, you are sure to find plenty of inspiration in many different kinds of stores. For instance, you can find vintage-style tables and chairs in a thrift store. Modern light fixtures can be found in your ordinary hardware stores. 
Geometric Shapes
A geometric shape introduced into your dining room's design adds a strong visual impact into the space. The effect is bold yet clean and not fussy. Because geometric shapes have simple lines, their impact on the human eye is bold and yet neat, clean, and not too complex. The overall effect is a beautiful yet uncluttered design.
Mix of Modern and Traditional
Your traditional wallpaper and dining set can be given a modern upgrade with the introduction of a scene-stealing sophisticated chandelier that can lift the usually dark and solemn area of a dining room, adding a fun and ethereal element into the mix. Bulbs on the top of the chandelier will shine through the several glass layers, creating a beautiful lighting effect that's both diffused in tone and yet sparkling. 
Sculpted Dining Room 
Another way you can add character to a dining room is to introduce sculpted wooden fixtures to it. Such fixtures will then enhance the space right from the top of the ceiling down to the chairs and the table. If you add in the chandelier, the effect is a lot like being in the midst of nature.
Personal Gallery Wall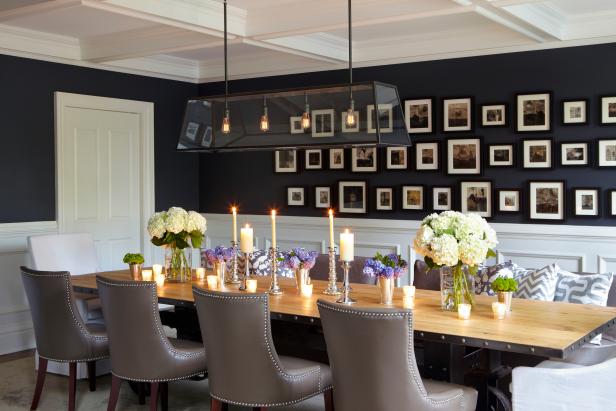 The dining room is one of the best areas in your house to display works of art, as it is likely to have lots of space. Also, they can serve as conversation starters. Even a couple of paintings can achieve the look of having your own personal art gallery; you just have to make sure that the paintings themselves won't contrast with the design of the room.
A Pop of Color 
If you want to make your dining area memorable, you will have to introduce a pop of color into it. For instance, a white table and the white walls can create a neat canvas for a collection of colorful, comfy chairs. For a more chic, sophisticated look, have the chairs reupholstered with vivid velvet upholstery.
Metallic Touches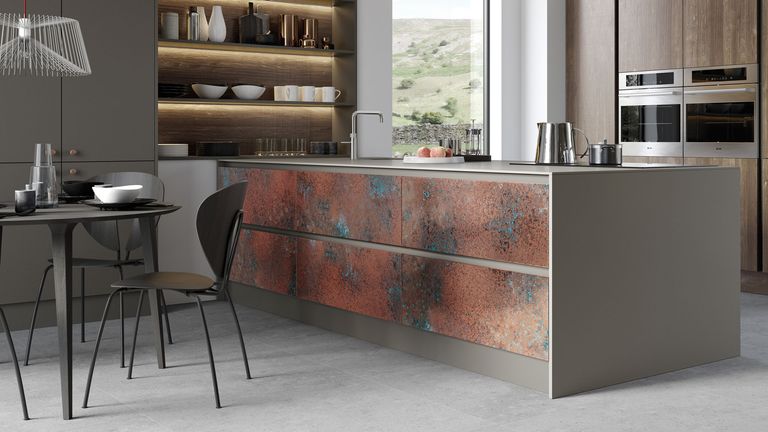 Last but not the least, for that extra sparkle, make sure you add a few metallic touches. Copper pendant lights, for example, can introduce a warm, metallic tone especially when installed over the wooden table.