5 Hottest Wallpaper Trends in 2020
When revamping your home, you should never forget your walls. It's the biggest part of the house, after all. And what better way to give it a makeover than a good ol' wallpaper!
This year, wallpaper trends are all about going natural, bold patterns, and warm colors. Check out our list of the key wallpaper trends that are taking over 2020 below.
The Top Wallpaper Trends This 2020
1. Tapestry
This 2020, tapestry-inspired wallpapers are in. According to Cole & Sons' creative director, Carley Bean, 'Tapestry-like designs are a perfect focal point for a room. Often inspired by idyllic landscapes, they bring the beautiful colours of the outdoors inside of the home. Their muted palette of greens, blues and neutrals can provide the colour inspiration and textures of the entire room.'
This wallpaper trend will see a rise in popularity this year, with many people loving the idea of having a form of art gracing their walls. 
2. Natural Touch
As mentioned, 2020's wallpaper trend will be about going natural. And by natural, we mean opting for materials that are made from nature. A few good examples include wicker, grass, straw, and silk. 
Parisian showroom Atelier Vime has one of the most covetable naturally made web claddings on the market. NLXL and Studio Roderick Vos, on the other hand, also boasts a stunning cane-web-like wallpaper that is up for grabs for those who want to give their walls an elegant makeover.
3. Geometric
Geometry plays a huge role when it comes to building houses, but do you know that this mathematical field can also be an inspiration for that much-wanted eye-catching wallpaper design? At the 2020 Surface Design Show, King Kong Design displayed a geometric wallpaper that are made of natural cement powder. They have also released panels made of Canson paper. These geometric patterns are the structure we have been aiming for amid the chaos this year has brought us.
4. The 50s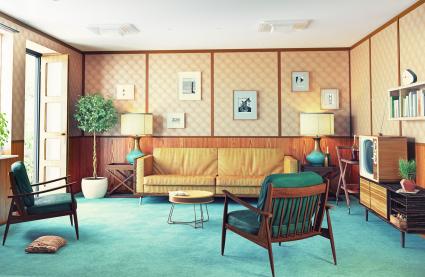 This year, wallpaper trends jump from one era to another, even taking a leap of time as far back as he 50s and 60s.
According to Guillaume Tregouet, Zuber's director, 'From Art Deco style to the trends of the 50s and 60s via Impressionist movement, designs are reborn in lively tones and adorn walls as works of art.'
5. 3D
When it comes to wallpaper trends, 3-D-like designs are not lagging far behind this year. The latest this 2020 are wall coverings that scream, "Touch me!" Some of these are printed cork, beaded papers, and 3D geometric designs. If you have any of these on your walls, your guests will surely never get enough of them.
Some examples are Arte's Velveteen collection, Phillip Jeffries' newly released panels, and Pernille Lind's collection of wall coverings.